Yorbl Sensors & Peripherals
Providing valuable data about the User's
activity & surroundings
New Products Launching Q2 2022
Sensors & Peripherals
The Yorbl range of sensors & peripherals brings exciting and innovative technology
About Yorbl Sensors & Peripherals
Providing a graphical view of collected data
Secured, running in Microsoft Azure Cloud and accessible from a Web Browser.
Intuitive and easy to use.
Digital Dashboards provide an easy to read graphical view
Overlay Sensors to build up a wellbeing snapshot.
Look at information over the last 30 days, or define a custom date range.
Export to CSV or PDF
Managers and carers can look across their entire scheme, quickly and easily.​​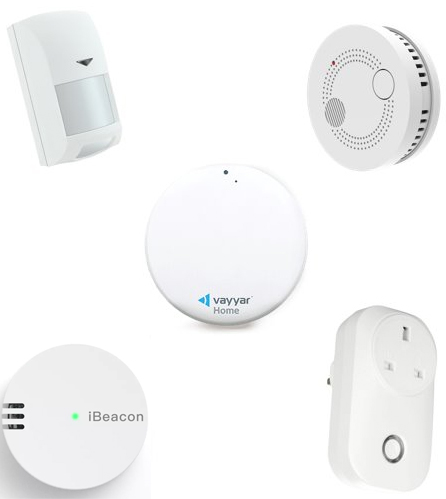 Working seamlessly with Vayyar's unique Touchless Activity Monitoring and Fall Detection technology
Ideal for those living at home independently or in a Supported Living environment, Vayyar Care eliminates the need for cameras, buttons and wearable devices. It uses advanced imaging radar to monitor a room 24/7, in all conditions. If there's a fall, it communicates directly with the Yorbl Cloud and calls for help. Also, when integrated with Yorbl Analytics, collects rich data covering activity, occupancy etc., that can be viewed through the Yorbl portal and used to check wellbeing, inform care decisions and more.
Video – LIVE HAPPIER WITH YORBL
Yorbl Sensors & Peripherals
Yorbl

iBeacon

Adhesive – Stick on any surface

Monitor:-

Temperature

Movement (Items, doors etc.)

Humidity/Moisture

Air Pressure

Light

Smoke Detector

monitoring for smoke in a building.

SMART Plug/Appliance Monitor

this will report on the status of a device that is plugged into it. For example, we will be able to see when the kettle is turned on in the morning, or when the TV is switched on.

Passive Infra Red (PIR)

this will monitor areas for movement, for example, we can pick someone up enroute to the bathroom in the middle of the night.

Vayyar Home WiFi Radar

Automatic Fall Detection

Movement Monitoring
Coming soon:
Bed occupancy – getting up several times during the night indicates a very broken sleep pattern or in a worst case scenario not getting up at all in the morning can be the trigger to raise the alarm.​​
Let's get ready to Yorbl!
Yorbl Vita+
Feature Rich – Built to TSA TECS & BSI Standards for Telecare devices
The Department of Health and Social Care has published the first ever medical technology strategy for the UK in a bid to accelerate access to innovative technologies.
read more
Thank You To Our Partners
Learn more about how Yorbl could help you