Providing valuable data about the User's
activity & surroundings
Sensors & Peripherals
The Yorbl range of sensors & peripherals brings exciting and innovative technology
About Yorbl Sensors & Peripherals
Providing a graphical view of collected data
The Yorbl range of sensors and peripherals will continue to grow over time, as we identify exciting and innovative technology and our customers and prospects come to us with their myriad of wants and needs.
Yorbl iBeacon
SMART Plug
Smoke Detector
Door Sensor
Bed Occupancy
Vayyar Home WiFi Radar
Passive Infra-red Sensor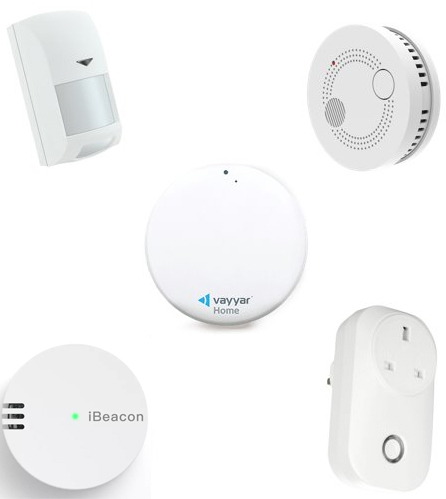 Video – LIVE HAPPIER WITH YORBL
Yorbl Sensors & Peripherals
A range of sensors that can be placed around the home, room or dwelling that can provide valuable data about the User's surroundings.​.
Yorbl

iBeacon

Adhesive – Stick on any surface

Monitor:-

Temperature

Movement (Items, doors etc.)

Humidity/Moisture

Air Pressure

Light

Smoke Detector

SMART Plug/Appliance Monitor

Monitor Device Usage and Power Consumption

Passive Infra Red (PIR)

Monitor Movement in rooms etc.

Vayyar Home WiFi Radar

Automatic Fall Detection

Movement Monitoring
Coming soon:
Bed occupancy – getting up several times during the night indicates a very broken sleep pattern or in a worst case scenario not getting up at all in the morning can be the trigger to raise the alarm.​​
Working seamlessly with Vayyar's unique Touchless Activity Monitoring and Fall Detection technology
Ideal for those living at home independently or in a Supported Living environment, Vayyar Care eliminates the need for cameras, buttons and wearable devices. It uses advanced imaging radar to monitor a room 24/7, in all conditions. If there's a fall, it communicates directly with the Yorbl Cloud and calls for help. Also, when integrated with Yorbl Analytics, collects rich data covering activity, occupancy etc., that can be viewed through the Yorbl portal and used to check wellbeing, inform care decisions and more.
Let's get ready to Yorbl!
Co-production is an approach that involves users in the design and delivery of services or products, thereby ensuring that the solutions are created with users rather than provided to or imposed upon them. It centres on the belief that the users of any service or product hold significant insights and valuable perspectives that can contribute to the development and refinement of the service or product.  Find out the benefits and challenges in this article from Yorbl's founder and CEO, Peter Reed-Forrester
read more
Learn more about how Yorbl could help you